Roses
Roses may be the world's favorite flower, and they certainly occupy center stage at The Arbor Gate. The old and antique roses in our collection have been around for generations, thanks to their resistance to diseases and pests. We feature the Earthkind™ varieties — roses extensively tested by Texas A&M University for hardiness, long bloom time, and easy care.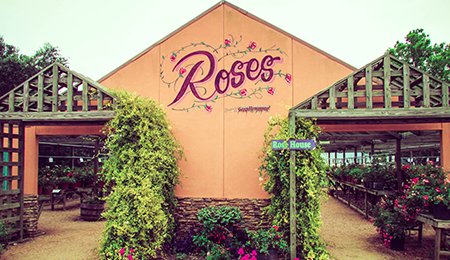 Display Gardens
Our ever-changing display gardens showcase our plants in natural settings. Take a stroll through our gardens to see sample beds in full bloom year-round.
Perennials
The Arbor Gate plant collection features perennials! Dependable, hardy, and exceptional performers, perennials are mainstays of any garden design — the proverbial "bones of the garden."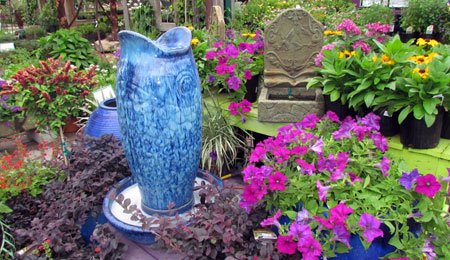 Herbs
Herbs lure many to the Arbor Gate just for our huge year-round collection of these intriguing and beautiful plants. Our varieties are chosen for suitability in the unique Gulf Coast climate. Be sure to browse through the Herb Garden and wonderful Herb House at your next visit!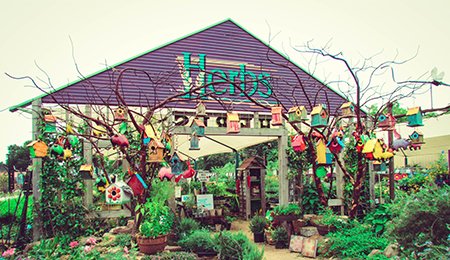 Flower Bulbs
Flower bulbs, especially those that will bloom and thrive as permanent plantings in local gardens, are seen in virtually every Arbor Gate display garden. Through our collaboration with Chris Wiesinger of Southern Heirloom Bulbs, we've acquired both the best bulbs, and the best information about them — both highly valued by our customers.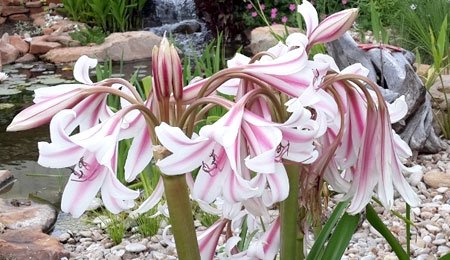 Native Plants
Looking for that hard-to-find native plant? Our carefully selected varieties will enhance any native garden design, and add great interest to gardens of any kind. If low maintenance is a priority, then these Texas gems are a must-have!
Vegetables
Homegrown vegetables are in the news and in our gardens as never before. With organic methods and well-chosen plants from local growers, you can produce healthful and beautiful veggies for the family table. And we can help — whether you're building a vegetable garden, choosing the varieties you and your family will enjoy, or solving problems — our knowledgeable staff and great books can help you succeed.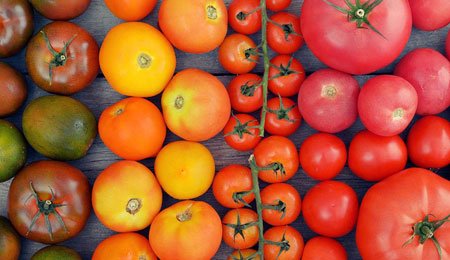 Pottery
The Arbor Gate is well known for a huge selection and wide variety of handcrafted pots and accessories. Our handcrafted pots range from classic to contemporary, in a vast array of finishes. Long firing in wood kilns produces strong frost-proof pots. No two are exactly alike, and they are living evidence of an ancient art. Whether you're looking for one distinctive pot or several to create an eclectic patio of mixed styles, we're happy to help.
Superior Clays. The pots are made from mineral-rich black clay from Vietnamese riverbeds, well known for its remarkable strength.
Frostproof. The clay is extruded repeatedly to eliminate all airspaces, a critical step to ensure the frostproof pots.
Fired For Strength. For two weeks, pots are fired in kilns to 1400° Centigrade by wood fires that are kept stoked to maintain that temperature.
Enduring Craftsmanship. Each pot is unique, crafted by a skilled artisan who carries on an ancient tradition.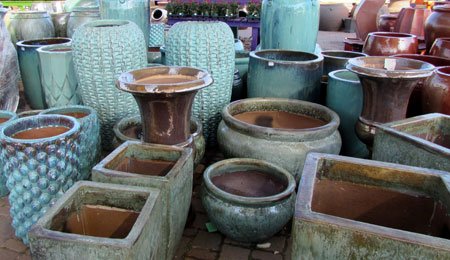 Monrovia Plants
Did you know you can order from Monrovia online and pick your plants up right here at The Arbor Gate with free shipping?