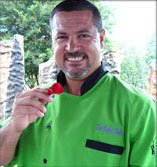 Mushroom Sauce with Winter Thyme
½ oz. butter
1 oz. Shallot, minced
4 oz. Mushroom stems, chopped
1 sprig of Winter Thyme
1 Bay Leaf
2 oz. Red Wine
16 oz. Demi glace
6 oz. Mushrooms, sliced and sautéed in butter
1 tsp. Winter Thyme;
Sauté shallots in butter until clear. Add the mushroom stems and sauté until mushrooms release their moisture. Add thyme, bay leaf and red wine and reduce by half. Add the Demi glace and reduce. Season and strain the sauce. Add the rest of the mushrooms and winter thyme to the sauce. Serve the sauce warm.
Chocolate and Winter Thyme Cookies
6 oz. Semi sweet chocolate
3 tbsp. Winter Thyme
¾ cup All Purpose Flour
1/3 cup Cocoa
1 tbsp. Espresso Powder
1½ tsp. Baking Powder
¼ tsp. Salt
½ cup Butter, unsalted and softened
1 cup Brown Sugar, packed
2 Eggs
2/3 cup Powdered Sugar
Melt chocolate in a heatproof bowl set over simmering water. Set aside and add the winter thyme and cool to room temperature. In a medium bowl, whisk together flour, cocoa, espresso powder, baking powder and salt. Set aside. With an electric mixer on medium-high speed, beat butter and brown sugar until light and fluffy. Beat in eggs, one at a time then chocolate. Reduce mixer speed to low and beat in flour mixture. Transfer bowl to freezer to chill for 30-60 minutes, until dough is firm enough to handle.
Preheat oven to 350 degrees F. Place confectioners' sugar in a shallow dish. Roll tablespoonfuls of dough between your palms to form balls, and then roll very generously in the powdered sugar. Place cookies on greased or parchment-lined baking sheets about 2 inches apart. Bake about 10 minutes, until tops are cracked and centre is almost set. Cool 3 minutes on baking sheet before transferring to wire racks to cool completely.