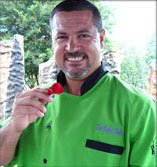 Fresh Spring Rolls with Shrimp and Vietnamese Coriander
2 oz Rice Noodles, cooked and chilled
8 each Rice Paper wrappers
8 each Shrimp, cooked, peeled, deveined, split
1 Tbsp Basil, rough chopped
1 Tbsp Mint, rough chopped
3 Tbsp Vietnamese Coriander, rough chopped
2 each Lettuce leaves, Greenleaf
16 each Chives
Dip wrapper into warm water for about 2 to 3 seconds to soften. Remove wrapper from water and lay flat on cutting board. Place 2 shrimp halves in middle of wrapper in a row. Top the shrimp with a bit of the noodles, herbs, a quarter of the lettuce leaf, and 2 chives leaving about 2 inches from the sides. Rolling from the ends, fold inward and then roll the spring roll up so making a single roll. Place each roll onto a plate and cover with damp towel till all rolls are finished so as not to let them dry out.
Peanut Dipping Sauce with Vietnamese Coriander
3/4 cup Creamy Peanut Butter
3 ounces Water
3 tbsp Hoisin sauce
2 tbsp Ponzu sauce
1 tbsp Rice vinegar, unseasoned
1 tbsp Honey
2 tsp Siracha
2 tbsp Vietnamese Coriander, finely chopped
1 clove Garlic, mashed
1/2 tsp Toasted Sesame Oil
Whisk all ingredients together and whisk again before serving if separated.