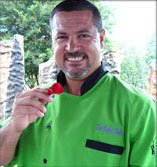 Poached Pears with Thai Mint
4 whole Pears, peeled with stems
2 Cups White Grape Juice
1 tbsp Honey
2 tbsp Thai Mint, chopped
1 Cinnamon Stick
¼ tsp Allspice, ground
¼ cup Heavy Cream
Combine juice, honey, 1 tbsp mint, cinnamon, and allspice in a saucepan with lid. Place the pears in the liquid and bring to a boil over high heat. Cover and reduce heat to a simmer and cook additional 15 to 20 minutes, turning once during cook cycle. Cook until pears can be easily pierced with a knife. Remove from heat and reserve. Return the liquid to a boil and simmer for additional 20 minutes. Remove the cinnamon stick from the liquid and add the cream. Cook until reduced to a sauce and add the remaining 1 tbsp mint. Ladle over the pears.
Gnocchi with Tomato Mint Sauce
3 tbsp Pecan Oil
½ Onion, chopped
½ Carrot, chopped
½ Celery Rib, chopped
15 oz Crushed Tomatoes
10 Thai Mint leaves plus 1 tsp chopped
32 oz Gnocchi
Heat oil over medium heat in a saucepan and add the onion, carrot, and celery. Cook until the onions are clear and add the tomatoes and mint. Cook for about 30 minutes at a simmer. Remove from heat and puree in food processor or blender. Season the sauce with salt, pepper, and lemon juice. Cook the gnocchi according to the directions. Gently spoon sauce over the drained gnocchi and garnish with 1 tsp mint leaves and cheese.