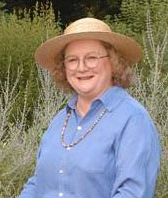 By Ann McCormick
Thanksgiving dinner is the big event in every cook's year. If the prospect of cooking yet another feast makes you feel less than thankful, perhaps it's time to spice things up a bit. Here's a few herbal ideas to get you thinking in new directions.
Stuffing the Bird – Packaged stuffing mixes are usually very lightly seasoned. Start by adding a tablespoon each of chopped fresh parsley and sage. When mixing the stuffing, use apple juice instead of water or chicken broth to give it just a touch of sweetness. You can also make it crunchy by adding one cup of chopped walnuts or pecans for every package of dry stuffing.
Dressing up Mashed Potatoes – Add zest to this filling side dish by mixing in a tablespoon of roasted garlic and two teaspoons of parsley for every three pounds of potatoes.
Making Herbal Butter – No matter what's on the menu, butter will be on the table. This too can be dressed up for the holiday. The day before the big meal, add one teaspoon of dried or one tablespoon freshly chopped herb seasoning to 8 ounces of softened butter. Some good combinations to try are parsley and oregano, basil and onion powder, or rosemary and thyme. Mix well, shape into a mound on a serving dish, and allow to chill for at least one hour.
That Green Bean Dish – You know the one I mean…the French-cut green beans, cream of mushroom, and fried onion casserole that appears everywhere at this time of year. Instead of the one eighth teaspoon of pepper called for in the original recipe, be bold and use a whole teaspoon. Then fold in a teaspoon of dried oregano. If you're feeling adventurous, include 1/2 cup sliced almonds for extra crunch.
These quick tips are guaranteed to improve the family feast. But don't forget dessert. If you'd like to make something but don't want to bake, I've posted a recipe for No-Bake Pumpkin Squares on my website.