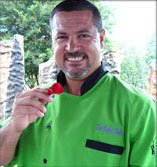 Mini Basil Corn Puddings
3 tbsp Butter
1/2 ea. Onion, chopped
2 tsp Garlic, minced
4 oz Cream Cheese
2 tbsp. Basil, chopped
15 oz Creamed Corn, canned
1/4 cup Corn, kernel
1/2 cup Cornmeal
2/3 cup Evaporated Milk
1 tbsp Sugar
1 ea. Egg, beaten
1/2 cup Cheddar, shredded
In sauté pan, heat 2 tablespoons of the butter and add onions. Cook onions for about 4 minutes over medium heat then add garlic and continue to cook for about 30 seconds. Remove from heat and let cool to room temperature. When cool, add rest of ingredients and mix well. Portion batter into mini muffin tins. Bake for about 30 to 35 minutes or until toothpick inserted into middle comes out clean.
Roasted Tomatillo Braised Chicken
6 Tomatillos, husked
3 Jalapenos, chopped and seeded if necessary
3 tbsp Pecan Oil
6 Chicken Breasts
1 Large Onion, diced
3 cloves Garlic, minced finely
1 cup White Wine
1/2 tsp Cumin
1 tsp Chili Powder
2 cups Chicken Stock
2 limes, zested and juiced
1/4 cup chopped fresh cilantro, plus more leaves for garnish
Preheat the grill. Place the tomatillos and jalapenos on the grill and cook until the skins blacken, about 10 to 12 minutes. Remove the tomatillos and jalapenos from the grill and let cool. In a large sauté pan, heat oil over medium high heat until you see wisps of smoke. Sprinkle the chicken generously with salt. Add the chicken breasts skin-side down, to the hot pan. Brown the chicken well on all sides. Remove from the pan and reserve. Ditch the excess fat from the pan and add a few drops of new oil. Add the onions, season with salt and cook until the onions are very soft and aromatic, 7 to 8 minutes. While the onions are cooking, coarsely chop the tomatillos and reserve. Chop the jalapenos into 1/4-inch dice and reserve with the tomatillos. If you want to tone down the heat, remove the seeds from the jalapenos before chopping.
Add the garlic to the pan with the onions and cook for 1 to 2 minutes. Add the wine off the heat to the pan and scrape any brown bits. Cook until almost dry then add the tomatillos and jalapenos. Stir to combine and add the chicken stock, lime juice and zest. Taste the sauce and season with salt and lime juice. Return the chicken to the pan and bring to a boil. Reduce to a simmer and cover. Cook for 15 minutes. Remove the lid and let cook for 15 more minutes. This will allow the stock to reduce. Taste for seasoning. Remove the chicken from the pan and stir in the cilantro. Spoon the sauce over the chicken, sprinkle with extra cilantro leaves.