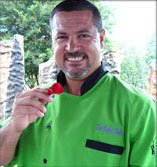 Strawberry Mint Tiramisu
1 ¼ cups Strawberry Preserves
2 tbsp Mint, chopped
1/3 cup plus 4 tbsp Grand Marnier divided
1/3 cup Orange Juice
1 lb. Mascarpone cheese, room temperature
1 1/3 cups Whipping Cream, chilled
1/3 cup Sugar
1 tsp Vanilla
1 ½ lbs. Strawberries, hulled and sliced, divided
Ladyfingers
Combine the preserves, mint, 1/3 cup Grand Marnier, and Orange juice in bowl and set aside. In another bowl, combine the mascarpone cheese and 2 tbsp Grand Marnier together. Using a mixer, whip the cream, sugar, vanilla, and remaining 2 tbsp Grand Marnier to soft peaks. Fold ¼ of the whipped cream into the cheese mixture to lighten it up. Fold in the remaining cream. In a glass 13 x 9, spread ½ cup of the strawberry preserve mixture over the bottom of the dish. Place ladyfingers over the preserve mixture to cover. Spread ¾ cup of the preserve mixture over the ladyfingers to cover then spread 2 ½ cups of the mascarpone mixture over the preserves. Place sliced strawberries over the cheese mixture and repeat layering with ladyfingers, preserve mixture, and mascarpone mixture. Cover with plastic and chill 8 hours. Garnish with remaining sliced strawberries.
Raspberry Basil Breeze
2 oz Vodka
6 – 8 Raspberries
4 leaves of Basil
Juice of half of a Lime
Ginger Beer
In cocktail mixer, muddle the raspberries, basil, and 2 ice cubes. Add the vodka and lime juice. Shake and strain over old fashioned glass filled with ice. Top with ginger beer and stir slightly. Garnish with raspberry and basil leaf.