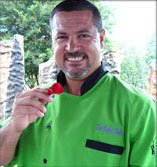 Scented Geranium Pound Cake
10 organic scented geranium leaves, wiped clean and dry
1/2 pound unsalted butter, softened
1/2 pound sugar
1/2 pound all-purpose flour
1 teaspoons baking powder
8 oz large eggs, separated
1 teaspoons pure vanilla extract
1/4 cup heavy cream
1/2 tsp Salt
Preheat the oven to 325 degrees with rack in center. Spray one loaf pan with cooking spray; line with parchment paper. Arrange geranium leaves, with tops facing down, along bottom and around sides of pan. Set aside. In the bowl of an electric mixer fitted with the paddle attachment, beat butter and sugar on medium speed until light and fluffy, 2 to 3 minutes. Sift together flour and baking powder. With the mixer set on low, add yolks one at a time to butter-and-sugar mixture, alternating with flour mixture. With the mixer set on medium speed, beat in vanilla, then cream and salt. Batter will be thick. Transfer batter to a large mixing bowl. Set aside. With an electric hand mixer, whip egg whites to stiff peaks. Using a rubber spatula, stir about one-quarter of the egg whites into batter to lighten. Fold in remaining egg whites .Carefully spoon batter into prepared pans. Run a knife blade through batter a few times to remove air bubbles. Bake until a cake tester comes out clean, 80 to 90 minutes. Let cool on wire rack, 1 to 1 1/2 hours, then remove from pans. Garnish with fresh geraniums.
Scented Geranium Lemonade
1/2 cup Sugar
6 cups Water
12 Scented Geranium Leaves
3/4 cup Fresh Lemon Juice
In a medium sauce pan, bring 3 cups water to a boil and remove from heat. Stir in sugar and geranium leaves and steep for 30 minutes. Add remaining 3 cups water and lemon juice to a pitcher. Strain the steeped liquid into the pitcher. Refrigerate until cooled and serve.