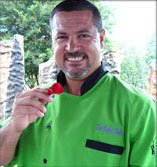 September Recipes Savory Bean and Mushroom Terrine
1 lb. Pinto Beans, soaked
64 oz. Chicken Stock
6 oz. Bacon, cooked and chopped
8 oz. Onion, diced
2 tbsp. Garlic, chopped
2 each Celery ribs
8 oz. Tomato, seeded and diced
4 each Bay Leaf
1½ tbsp. Winter Savory
2 tbsp. Butter
8 oz. Mushrooms, sliced
1 oz. Gelatin Powder
Pick and wash beans and place into a pot and add the chicken stock and bacon. Bring to a boil and reduce to a simmer and cook for 3 hours. Sweat onion, and garlic and add to the beans. When combined, add the tomato, bay leaf, savory and salt and pepper. Simmer additional 30 minutes and cool. Chill beans overnight in the refrigerator. To assemble the terrine, drain beans and add the gelatin to 1 cup of the bean stock. Heat the stock to melt the gelatin and cool. Sauté the mushrooms in the butter until mushrooms have darker color and butter is evaporated. Add the mushrooms and bean stock to the beans and pour into a plastic wrap lined terrine mold and chill overnight. Slice and serve the next day.
Savory Napoleon with Blueberries and Strawberries
2 tbsp. Savory
1/3 cup light corn syrup
1½ cups heavy cream
2 tbsp. Sugar
1 tsp. Summer Savory
1 pint Blueberries
1 pint Strawberries, quartered
3 tbsp. Sugar
12 sheets of cooked Puff Pastry cut into 3 x 6 rectangles
Fresh Berries for garnish
In a food processor, combine the savory and corn syrup until combined. Meanwhile, whip the cream and sugar together until soft peak and fold in the savory syrup slowly until all is incorporated. Refrigerate until ready to assemble the napoleons. In a bowl, combine the blueberries with the sugar and the savory and let sit for about 15 minutes. Pour into sauce pan and cook blueberries until bubbling and fragrant. Remove from heat and add the strawberries and cool to room temperature. To assemble the napoleons, spoon 1 tbsp savory cream onto plate and place 1 sheet of the puff pastry on top of the cream and top with about ¼ cup savory cream. Then spoon ¼ cup berries on top of the cream. Top with another sheet of pastry and repeat finishing with pastry. Garnish with cream and fresh berries.