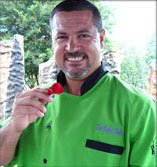 Rosemary Honey Pull Apart Bread
18 tbsp. unsalted butter, plus more for greasing
4 cups Flour, plus more for dusting
1 1/2 cups grated Gruyere cheese
1 tbsp. Salem Rosemary, finely chopped
2 tsp. Kosher Salt
1 tsp. Black Pepper
1 cup Milk
1/4 cup Sugar
2 (1/4-oz.) packages active dry yeast
1 cup Honey
Grease a 10″ Bundt pan with butter and dust with flour; set aside. Whisk flour, cheese, rosemary, salt, and pepper in a bowl; set aside. Heat 2 tbsp. butter with milk and ? cup water in a 1-qt. saucepan over medium-high heat until temperature reads 115. Transfer to the bowl of a stand mixer fitted with a hook attachment. Stir in sugar and yeast; let sit until foamy, about 10 minutes. With the motor running, slowly add dry ingredients; beat until dough is smooth. Transfer to a lightly greased bowl and cover loosely with plastic wrap; set in a warm place until doubled in size, about 1 hour.
Melt remaining butter in a saucepan; then whisk in honey and set aside. Heat oven to 350. On a lightly floured surface, pat dough out into an 8″ square about 1″ thick. Cut dough into 1-inch pieces and fit snugly into prepared Bundt pan. Pour butter mixture evenly over dough; bake until golden and a toothpick inserted in the middle of the bread comes out clean, about 35 minutes. Let cool slightly before serving.
Rosemary Roasted Pork Roast
3 lbs. Pork Roast, trimmed
1 tbsp. Pecan Oil
3 cloves Garlic, sliced
6 tbsp. Salem Rosemary, chopped
Preheat oven to 375 degrees. Rub roast with oil. Make some cuts into the roast and insert slices of garlic into cuts. Place into roasting pan and rub with chopped rosemary. Bake at 375 for about 2 hours or until pork temperature registers 145 degrees on thermometer. Remove and tent with foil for about 30 min. Slice and serve warm.