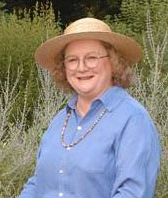 By Ann McCormick
Ah, the delights of summer. Time for picnics, barbecues, and pool parties. To complement these outdoor activities, we naturally reach for salad. A bowl filled with crisp lettuce and juicy tomatoes is just waiting for the right flavor touch. There's no finer – or healthier – way to enhance your salad than with fresh herbs mixed in the salad dressing or added straight to the greens.
Herbs have always been part of salads. In fact, our colonial foremothers called lettuce, cabbage, and other greens "salad herbs" to distinguish them from cooking herbs such as rosemary, oregano, and thyme. Over time, salad herbs became vegetables and fresh herbs from the garden almost disappeared in favor of dried herbs bought in a bottle.
This summer, let's revive the use of fresh herbs on salad greens. Here's a selection for you to grow in your garden and add to your salad bowl:
Salad Burnett – This might be a new herb to you but I encourage you to try it. The leaves have a light cucumber flavor. Sprinkle on green salad, pasta, or potato salad.
Basil – There are many varieties and flavors of basil that will add zest to your salad. Whichever one you use, slice the leaves with a very sharp knife. Using a dull knife turns the edges of the leaves black.
Mint – Like basil, there are several flavors of mint to use. Start with peppermint or spearmint on fruit salad. Then branch out to apple mint or pineapple mint.
Onion Chives – A quick snip with the kitchen shears and the leaves of onion chives are ready to add a flavor zap to salads. The lavender pom-pom flowers are also edible and lend an exotic touch.
So grab your trowel and get ready for delicious salads. Growing your own salad herbs will make summer that much sweeter.