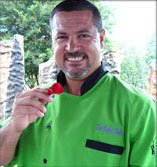 Salad Burnet and Crab Spread
2 tbsp Salad Burnet, chopped
8 oz Crab meat, chopped and cleaned
4 oz Tomato, chopped
1 each Shallot, finely chopped
1 tbsp Lemon Juice
1 tbsp Soy Sauce
6 oz Cream Cheese
Salt and Pepper to taste
In a mixing bowl, combine the salad burnet, lemon juice, soy sauce, cream cheese, salt and pepper and mix till combined. In another bowl, combine the crab meat with the tomatoes and shallot. Fold the crab mixture into the cream cheese mixture and mix till just combined. Place into the refrigerator and chill for about 2 hours. Use as a dip or on sandwiches.
Spicy Bloody Mary Mix with Salad Burnet
46 oz Tomato Juice
5 oz Beef Stock, reduced sodium if possible
4 tbsp Worcestershire Sauce
2 tbsp Lemon Juice
2 tbsp Tabasco Sauce or other hot sauce
2 tsp Black Pepper
3 tbsp Salad Burnet, chopped finely
Combine all ingredients into large pitcher and refrigerate. Let chill for at least 2 hours.