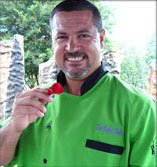 Orange Marmalade and Rosemary Cocktail
2 oz. Gin
2 oz. Rosemary Simple Syrup
2 cups water
1 cup sugar
¼ cup rosemary
2 tbsp. Orange Marmalade
1 oz. Lemon Juice
Combine all ingredients in shaker with ice and shake for about 20 seconds. Pour into Collins glass and garnish with rosemary.
Rosemary Cheddar Gougeres
4 oz plus 1 tbsp Water
2 Eggs
3 oz Cheddar Cheese, shredded
2½ oz Flour
1½ oz Butter
2 tsp Rosemary, chopped finely
Pinch of Cayenne pepper
Preheat oven to 425 degrees. Line a baking sheet with parchment paper. Combine water, butter, and cayenne in a saucepan and heat until the butter melts. Add the flour and stir quickly with wooden spoon until batter is smooth and soft. Remove from heat and add the eggs one at a time and stir until well mixed before adding second egg. Add the rosemary and ¼ of the cheese reserving ¼ to top with. Stir the dough until completely mixed. Place the dough into a piping bag with plain tip. Pipe the dough onto the parchment paper, about the size of a grape. Top the rounds with remaining cheese. Bake for about 10 minutes then reduce heat to 375 degrees and bake for additional 20 minutes, or until they turn golden brown.