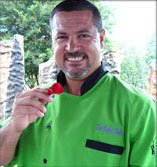 Rose and Pineapple Salsa
8 oz. Pineapple, cored and diced
3 ea. Green Onions, chopped
½ cup Rose Petals, chopped
1-½ tbsp Lime Juice
1 Jalapeno, chopped, (seeds removed for less heat)
½ tsp. Salt
¼ tsp. Black Pepper
Combine all ingredients and refrigerate for at least 30 minutes to infuse flavors.
Rose and Jalapeno Margaritas with Rose rimmed glass
8 oz. Tequila
1 tsp. Jalapeno, chopped
12 oz. Rose Syrup (recipe follows)
4 oz. Lime Juice
1 tsp. Rose, chopped
1 tbsp. Salt
Combine first 5 ingredients with 3 cups of ice in blender and pulse till smooth. To make the rose salt, combine the rose petals and salt in food processor and pulse till combined. Dip glass into lime juice and then dip into salt.
Rose Syrup
2 cup Rose petals, whites removed
1 cup water
1-½ cups Sugar
2 Whole Cloves
1 tsp. Mint, chopped
1 tsp. Lemon Juice
Heat the rose petals and water to a boil and then simmer for five minutes. Add sugar, cloves, mint, and continue to simmer just until sugar dissolves. Strain the syrup, discarding the petals, cloves, and mint. Add the lemon juice and refrigerate until ready to use.