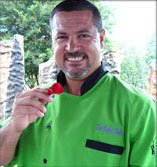 Roosevelt – Rose-infused Vodka with Grapefruit Juice
3 cups Freshly Squeezed Red Grapefruit Juice (7 Grapefruit)
2 cups Simple Syrup
2 cups Rose-infused Vodka
Sparkling White Sugar (optional)
Pour 2½ cups grapefruit juice into 2 ice cube trays; freeze until firm. Cover and chill remaining juice.
Process frozen juice cubes, remaining half-cup grapefruit juice, simple syrup, and vodka in a five cup blender for 10 seconds or until slushy. Serve in sugar rimmed glasses and garnish with fresh rose petals.
To Infuse Vodka, place 3 cups rose petals into 750ml bottle of vodka and let sit for 3 days. Can be strained and kept in freezer until ready to use.
Rose Chicken Sausage
1¼ lbs Chicken thigh meat, boneless and skinless and cubed into 1 inch dice
4 tbsp Rose petals, chopped
1 tbsp Garlic, minced
1 tsp Black Pepper
2 tsp Salt
1 tbsp Lemon Juice
½ cup Dried Apples, diced
¼ cup Red Onion, diced
In a container that will fit your freezer, combine chicken, roses, garlic, salt, pepper and lemon juice and toss to combine and place into freezer for about 30 minutes. Remove from freezer and add apples and onion and place into food grinder with a small die. Run through once and remove a small piece and fry to check seasoning. If seasoning is correct, run again into the grinder with casings added to end or use as bulk sausage and roll into plastic wrap. Hint: Keep all ingredients cold when making sausage. Place grinder into freezer for 15 minutes prior to using.