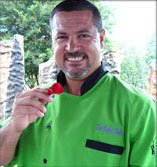 Mint Chocolate Syrup
6 oz Unsweetened Chocolate
3 tbsp Unsalted Butter
2 tbsp Mint, chopped
2 cups Sugar
12 oz can Evaporated Milk
Melt chocolate, butter, and mint over low heat. When completely melted, add sugar alternately with milk until all are combined. Cook for about 15 minutes. Remove, strain, and serve. Garnish with fresh mint

Minted Meringues with Strawberries
2 large Egg whites
1/4 tsp Cream of Tartar
Dash of Salt
1/2 cup Powdered Sugar
2 tsp Mint, chopped finely
1/2 tsp Vanilla extract
1 cup Strawberries, sliced
1 tsp Sugar
Preheat oven to 250 degrees. Place piece of parchment paper on baking sheet. Beat together the cream of tartar, egg whites, and salt in mixer on high until foamy. Slowly add the powdered sugar to the mixture until stiff peaks form. Fold in mint and vanilla. Pipe the mixture onto the parchment paper into four circles. Using a spoon, indent gently on the circles to form a nest. Bake at 250 degrees for 1 to 1 ½ hours or until dry. Turn off the oven and cool in the closed oven for 3 hours. Remove from oven when dried. In a small bowl, combine strawberries with the sugar and stir gently. Spoon the strawberries into the indentions on the meringues and serve. Garnish with mint.