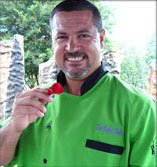 Calendula Cookies
6 Calendula flowers
1 / 2 cup Butter, room temp
1⁄2 cup Sugar
2 Orange, zest of
2 tbsp Orange juice concentrate, at room temp
1 tsp Vanilla
2 large Eggs, lightly beaten
2 cups Flour,A.P
2 1⁄2 tsp Baking Powder 
1⁄4 tsp Salt
Preheat oven to 350°F. Lightly grease 2 cookie sheets. Rinse flowers and pull off petals, set aside. In a bowl, cream butter, sugar and orange rind till fluffy. Add orange juice concentrate and vanilla. Mix in eggs, stirring till blended. Sift together flour, baking powder and salt. Blend calendula petals and dry ingredients into creamed mixture. Drop dough by teaspoonfuls onto cookie sheet. Bake 12 to 15 minutes. Remove and cool on pan.
Calendula Compound Butter
1 stick of Butter, unsalted, room temp
2 tbsp finely chopped Basil
3 tbsp chopped fresh Calendula petals
½ tsp Lemon Zest
1 tsp Salt
½ tsp White Pepper
Mix all ingredients with wooden spoon in bowl. Put finished butter in wax paper or plastic wrap and roll up. If using wax paper, tie ends of roll with string or use rubber bands. Keep in refrigerator until ready to use.