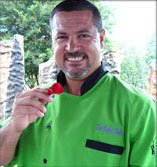 Sweet and Spicy Chile Pepper Jelly
4 Red Bell Peppers, chopped finely
2 Red Chiles, chopped finely
3 cups Sugar
1½ cups Apple Cider Vinegar
In a saucepan, combine all ingredients and bring to a boil. Reduce heat and simmer until reduced by 2/3, about an hour. Transfer to clean heatproof jars. Cover and chill until set.
Chipotle Bourbon Sauce
1 tsp. Oil
1 Shallot, minced
2 cloves Garlic, minced
2 oz. Bourbon
12 oz. Beef Stock
5 oz. Maple Syrup (use good stuff)
Salt and Pepper to taste
Lemon juice
In small sauté pan over medium heat, heat oil and add shallot. Sauté until almost clear and add garlic. Sauté additional 30 seconds so as not to burn garlic. Add the bourbon off the heat and flame it using stick lighter. When flames go out add the beef stock and maple syrup. Reduce to desired consistency and season with salt, pepper, and lemon juice. Serve over meats or vegetables.