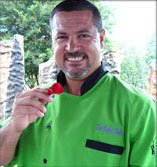 Salsa Verde
3 tbsp Pecan Oil
4 Garlic cloves
½ tsp Crushed Pepper flakes
½ tsp Salt
1 cup Parsley, chopped
½ cup Basil, chopped
2 tsp Savory
1½ tbsp Champagne Vinegar
Heat oil over medium heat and add the garlic, pepper flakes, and salt. Heat until garlic just turns brown and remove pan from heat. Cool the oil to room temperature. To a blender, add the herbs, vinegar and the oil. Puree until desired consistency. Season the salsa with salt and pepper.
Parsley and Lemon Yogurt Cheese
16 oz Plain Yogurt
1 tbsp Parsley, chopped
1 tsp Lemon zest, minced
1/8 tsp Salt
Line a strainer with cheesecloth and place strainer over bowl. Combine the zest with the yogurt and place into the strainer. Cover with plastic wrap and place into refrigerator for 24 hours. Remove from refrigerator and discard the drained liquid. Transfer cheese to a bowl and add the parsley and salt. Store the cheese in a covered container in the refrigerator for up to a week.