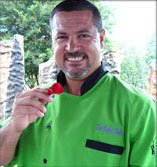 Marinade with Oregano
¼ cup Lemon Juice
½ tsp Crushed Red Pepper
½ tsp Black Pepper
½ tsp Salt
3 cloves Garlic
¼ cup Parsley, chopped
1⁄3 cup Oregano, chopped
½ cup Pecan Oil
Stir together first four ingredients until salt is dissolved. Add the rest of the ingredients to the first four ingredients and whisk in the oil. Use the marinade shortly after making.
Cilantro and Lime glazed Chicken Wings
1½ cup Lime Juice
¼ cup Cilantro, chopped
½ cup Pecan Oil
1 tsp Salt
1 tsp Pepper
4 oz Jalapeno Jelly
1 oz Lime Juice
1 tbsp Cilantro
2 lbs. Chicken Wings
Combine first 5 ingredients into large bowl or zip top bag and stir to combine. Add chicken to the marinade and refrigerate for 2 to 4 hours. To make the glaze, heat jelly and lime juice in sauce pan to desired consistency. Remove from heat and add cilantro and season with salt and pepper. Remove chicken from marinade and discard marinade. Grill chicken till 5 minutes from being done. Glaze with cilantro glaze and finish cooking.