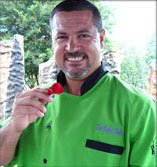 Greek Seven Layer Dip
8 oz. Cream Cheese
1 tsp Greek Seasoning
4 cloves Garlic, minced, roasted
2 tsp. Lemon Juice
2 tsp. Lemon Zest
2 cups Hummus, Red Pepper
1 cup Cucumbers, seeded and diced
1 cup Roma Tomatoes, seeded and ?diced and drained
1/2 cup Kalamata Olives, chopped
1/3 cup Green Onions, chopped
4 oz Feta Cheese, crumbled
1/4 cup Parsley, minced
In a bowl, combine the cream cheese, garlic, Greek seasoning, lemon juice and lemon zest. Mix completely and spread onto bottom of serving dish making sure to have inch depth of base. Spoon the hummus onto the cream cheese and spread to edges covering the cream cheese completely. Next, top the hummus with the cucumbers, followed by the tomatoes. On top of the tomatoes, place the olives, then the onions, then the cheese and ?nally the parsley. Cover and refrigerate completely to let ?avors blend. Serve with pita crackers.
Salsa Cheesecake
Cooking spray
1 tbsp. Breadcrumbs
2 – 8 oz. blocks Cream Cheese
1/2 cup Salsa
1/4 cup Cilantro
4.5 oz can Green Chilies, chopped
1 tbsp. A.P. Flour
1 tsp. Chili Powder
1 tsp. Cumin
1/8 tsp Cayenne Pepper
1 Large Egg plus 1 Egg White
1/2 cup Monterrey Jack Cheese, shredded
1/4 cup Black Olives, sliced
1/4 cup Red Bell Pepper, chopped
3 tbsp. Green Onion, chopped
3 tbsp. Corn, whole kernel
3 tbsp. Black Beans, cooked and ?drained
1 tbsp. Cilantro, chopped
Coat a 7 inch spring form pan with the cooking spray then add the breadcrumbs and cover the bottom of the pan. Beat the cream cheese in a mixer with blade attachment on medium speed until creamy. Add the salsa, cilantro, chilies, ?our, chili powder, cumin, and cayenne pepper and beat until just blended. Next, add the eggs and beat gently until just combined. Fold in the cheese and pour into the prepared pan.
Cook in a water bath at 300 degrees for 2 hours and turn off heat and open door slightly and leave in oven. Remove after 30 minutes and cool completely on wire rack. Place into refrigerator and chill for 8 to 24 hours. Carefully remove from pan and garnish with black olives, bell pepper, green onion, corn, black beans, and cilantro. (Alternate cooking method in crock pot on top of ramekin with 6 cups boiling water in bottom of cooker cooking on high setting covered for 2 hours, then turn off and uncover but leave in crock pot for additional 30 minutes. Remove and cool on counter then place in the refrigerator).