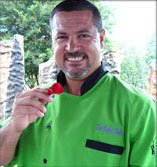 Easy Herbal Rub for Chicken and Pork
2 tbsp Pecan Oil
1 tsp Garlic Powder
1 tbsp Lemon zest
1 tbsp Rosemary, chopped
1½ tsp Oregano, chopped
1 tsp Black Pepper
1 tsp Salt
1 tbsp Chives, minced
1 tsp Dry Mustard
Mix all ingredients together in a bowl. Use as needed for seasoning.
Herbal Glaze
9 oz. Apricot jelly
2 tsp Garlic, minced
2 tbsp Dijon Mustard
¼ tsp Crushed Pepper Flakes
1 tsp Salt
2 tbsp Thyme
1 tbsp Oregano, chopped
2 tsp Dill, chopped
1 tbsp Parsley, chopped
Water as needed
In a saucepan, heat jelly over medium low heat until it melts. Add the garlic and cook for about 3 minutes or until fragrant. Remove from heat and add the rest of the ingredients to the glaze. Add water to glaze for desired consistency. Season the glaze with salt and pepper if necessary.