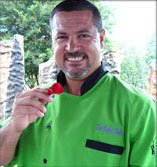 Butterflied Potatoes with Newe Ya'ar Sage Compound Butter
1 lb. Butter, softened
2 tbsp Olive Oil
1 tbsp Lemon Juice
3 tbsp Newe Ya'ar Sage
1 tsp White Pepper
4 Russet Potatoes, washed and cleaned
Combine all ingredients in a food processor and process until just combined. Using a piece of plastic wrap or parchment paper, roll the butter into a tube and place into freezer until hard. For the potatoes, slice them until almost all the way through and continue to slice them until they resemble an accordion. Wrap with foil and bake at 400 degrees until done about 40 minutes. (Time depends on the size of the potato.) Remove from oven and unwrap. Place thin slices of butter over the potato and rewrap so as not to lose the butter. Serve warm.
Pineapple and Newe Ya'ar Sage Infused Water
½ each Pineapple, sliced
20 Newe Ya'ar Sage leaves, chopped
1 gal Water
In a large sealable container, muddle the sage leaves then add water and then pineapple. Refrigerate for at least 12 hours. Strain and serve.