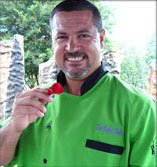 Chicken Roulade with Cranberries, Pecans, and Newe Ya'ar Sage
1 Whole Chicken
2 Eggs
4 oz. Heavy Cream
½ cup Dried Cranberries
½ cup Pecans, chopped or pieces
2 tbsp. Newe Ya'ar Sage
2 tsp. Salt
2 tsp. Pepper
2 tbsp. Pecan Oil
Turn chicken over so that backbone is up and cavity faces you. Make one slice down backbone with sharp knife. Using your fingers, lift skin from the muscles of the chicken until you get to the legs and wings. Remove the wing tips and push the wings through so that skin does not tear. Cut the legs at the joint with a slice around the end of the leg and push the leg through so that the skin does not tear as well. Flip the bird over onto back and continue removing the skin so as not to tear it until it comes off in one large piece. Place plastic wrap over a jelly roll pan and place skin on it outside side down. Place into refrigerator or freezer until ready to use. Debone chicken, keeping white meat separate from the dark meat using two bowls. In a food processor, place dark meat with 1 egg and process until smooth, and then add 2 ounces of the cream and half of the cranberries, pecans, sage, salt and pepper and pulse until combined. Do the same process to the white meat using remaining ingredients. Remove the skin from the freezer and spread the dark meat mixture onto the skin leaving about an inch from each side. Spread the white meat mixture onto the dark meat. Roll the roulade so as to finish with one straight log. Truss with kitchen twine rolling the ends under so as to have smooth ends. Rub the entire bird with the oil and roast in a 350 degree oven until temperature reads 160 degrees. Remove from oven and rest for about 10 to 15 minutes. During this time the chicken will continue to cook to 170 degrees. Slice and serve warm.
Mushrooms with Sage
2 tbsp. Unsalted Butter
1 medium Onion, finely chopped
8 cups Mushrooms, sliced
3 cloves Garlic, minced
1/3 cup Red Wine
¼ tsp. Pepper
½ tsp. Salt
2 tbsp. Sage, minced
In large skillet, melt butter over medium-high heat; cook onion, stirring occasionally, for about 5 minutes or until softened. Add mushrooms and garlic; cook for about 12 minutes or until almost dry. Add wine, salt and pepper; cook for 4 minutes or until wine has almost evaporated. Stir in sage.