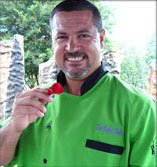 Pork Ragu with Myrtle
1½ lb. Pork tenderloin
¼ tsp. Salt
¼ tsp. Pepper
4 leaves Myrtle, chopped finely
1 tbsp. Cornstarch
¾ cup Crushed tomatoes, divided
1 tbsp. Sun-dried tomatoes, chopped ?(not packed in oil)
1½ cups Mushrooms, sliced thick
1/3 cup Onion, sliced
1½ cups hot cooked egg noodles
Rub pork with salt, pepper and myrtle; cut in half. In a 1½-quart slow cooker, combine the cornstarch, ½ cup crushed tomatoes, and sun-dried tomatoes. Top with mushrooms, onion, myrtle and pork. Pour remaining tomatoes over pork. Cover and cook on low for 3-4 hours or until meat is tender.
Remove meat and cut into slices. Stir in the cooking juices until smooth. Season with salt, pepper, lemon juice, and serve warm over noodles.
Sauerbraten with Myrtle
1 tbsp. Pecan Oil
4 to 5 lb. Chuck Roast
½ Onion, chopped
2 tsp. Salt
3 cups Chicken Stock
2 tbsp. Pickling Spice
8 Myrtle Leaves
1 cup Red Wine Vinegar
½ cup Light Brown Sugar, packed
3 tbsp. Flour
2 Myrtle Leaves, chopped finely
12 Gingersnap Cookies, crumbled
Brown the roast in heavy pot using the pecan oil. Remove from pan and reserve. Add the onions and salt to the pan. Cook the onions for about 3 minutes. Place roast on top of the onions and add the chicken stock, pickling spice, 8 myrtle leaves, vinegar, sugar, and flour. Simmer for about 3 to 4 hours or until tender. Remove roast and reserve under foil. Strain cooking liquid and reserve. Return 4 cups of strained liquid to the pan and add the chopped myrtle leaves, and the gingersnap cookies. Cook and stir until smooth and slightly thick. Slice roast and serve with sauce.