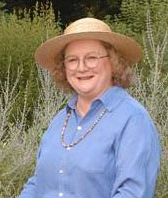 As I wrote last month, I've made three resolutions for my 2007 garden. First, improve my watering habits. Second, find and use economical mulch. These two are fairly simple. But my third New Year's gardening resolution will require a little more muscle and a lot more planning.
This spring I need to reevaluate my herbs' performance and see if they will grow better in a different location on my homestead. If a plant is getting too much water or not enough sun it will grow poorly and probably die. Transplanting an unhappy plant to a spot where it will thrive makes us both happier. Let me give you two examples.
Late last summer, I received an unexpected gift of a pink echinacea. I was in a hurry and plopped it in a spot underneath a fruitless plum tree. Alas, the tree died last fall, exposing my new herb to too much sun. So it will be moving to a spot where it will get dappled shade.
Several years ago, I planted some Mexican mint marigold (aka Texas tarragon) in a dappled shade area next to a rose. The herb is doing fine but its crowding my rose too much. Next chance I get I'll dig it up and place it somewhere with a bit more open space – perhaps in the area vacated by the fruitless plumb.
How about you? Do you have garden residents that would benefit from transplanting? Resolve now to dig in this spring and make some changes for a happier garden in 2007.