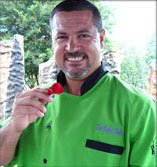 Blueberry and Mint Mini Cheesecakes
16 Vanilla Wafers
1 tbsp. Butter, melted
8 oz. Cream Cheese
2/3 cup Sugar
1 tsp. Lemon Zest
1 tbsp. Mint, minced
1 Egg, large
1 tbsp. Lemon Juice, fresh
¼ cup Blueberry Jam
1¼ cup Blueberries, whole, divided
Process vanilla wafers in a food processor until finely crumbled then add butter and blend. Preheat oven to 350 degrees, and line standard muffin tin with liners. Place 2 tsp. of cookie mixture in base of cups. Bake for 8 minutes or until crisp. Remove from oven and cool. Combine cheese, sugar, lemon zest, mint and ¼ cup of blueberries in bowl of food processor and pulse until just combined. Add the egg and lemon juice and pulse again to bring together. Divide batter into muffin tins and bake for 15 to 20 minutes or until puffed and set. Remove from oven and cool on rack. Refrigerate after cool and chill until firm. Heat jam in microwave for about 20 seconds and stir in the rest of the blueberries. Spoon the blueberry mixture onto top of cooled cheesecakes. Refrigerate until ready to use.
Peach and Mint Ice Cream
14 oz. Sweetened Condensed Milk
5 oz. Evaporated Milk
1¼ cup Whole Milk
2 tbsp. Sugar
4 Peaches, peeled and sliced
1 tsp. Vanilla
¼ cup Lemon Juice
¼ tsp. Salt
3 tbsp. Mint, chopped
6 oz. Peach Nectar
Combine all ingredients for the base and chill for 4 hours. Pour chilled base into an ice cream maker and freeze until soft serve stage. Pour into freezer container and harden the ice cream at least 4 hours.