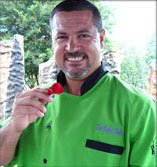 Quinoa with Mint
1 1/2 cups Stock or water
1/2 tsp Salt
3/4 cup Quinoa, rinsed and drained
1 bay leaf
1/4 cup Mint, chopped
1/4 tsp Pepper
1 tbsp Lemon Juice
In a medium pot, bring the stock or water to a boil. Add the salt, bay leaf, and quinoa. Reduce heat to low and simmer for 20 minutes covered. Remove from heat and let stand for 10 minutes. Remove the bay leaf and add the mint, pepper, and lemon juice.
Mango, Mint and Lime Salsa
2 Mangoes, seeded and chopped
3 ea. Green Onions, chopped
1/2 cup Mint, chopped
1 1/2 tbsp Lime Juice
1 Jalapeno, chopped, (seeds removed for less heat)
1/2 tsp Salt
1/4 tsp Black Pepper
Combine all ingredients and marinate for at least 30 minutes for flavors to combine.