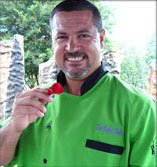 Pasta Salad with Basil and Mexican Mint Marigold
2-1/4 lbs. Tomatoes (preferably plum)
1/4 cup Basil leaves, chopped
1 tbsp Parsley, flat leaf
2 tbsp Mexican Mint Marigold
1 tablespoon chopped garlic (from 2 garlic cloves), plus more if desired
1/4 cup Extra-Virgin Olive oil, plus more for drizzling
2 tbsp Lemon juice, fresh
Coarse salt and freshly ground pepper
1 lb. Pasta
Grated Parmesan cheese, for serving (optional)
Finely chop tomatoes, basil, parsley, and garlic, and mix together with oil (or pulse ingredients, including oil, in a food processor to blend).
Bring a large pot of salted water to a boil. Add pasta, and cook until al dente. Drain pasta, and toss it in a serving bowl with the raw sauce. Transfer to 6 shallow bowls, and drizzle with oil and lemon juice. Serve with cheese.
Layered Brunch Casserole
1 box Puff Pastry
1/2 lb. Swiss Chard, trimmed
2 garlic cloves, minced
4 tbsp. Butter, melted
1 tbsp. Pecan Oil
1 tsp Salt
1/2 tsp Pepper
2 ea. Red Bell Peppers, roasted and sliced into strips
9 Large Eggs
12 oz Gruyere cheese, shredded
1/2 lb. Ham, thinly sliced
2-1/4 oz can sliced Olives
1 large Egg, beaten
2 tbsp Parsley, chopped
1-1/2 tbsp Chives, minced
1 tbsp Dill, chopped
1 tbsp Mexican Mint Marigold, chopped
Roll out sheets of puff pastry and make two 9 inch circles. Place one of the circles into the bottom of a 9 inch spring form pan. Using remaining scraps of the pastry, press onto sides of the pan leaving 1/4 inch overhang. Refrigerate the unused circle for later use. Cook the swiss chard and garlic with 1 tablespoon of butter and oil until wilted and liquid evaporates. Remove from heat and add 3/4 tsp salt, 1/4 tsp pepper, and chill. Whisk the eggs with the herbs and remaining salt and pepper.
In a 9 inch nonstick pan, Place one of the omelets into the spring form pan and half of each of the swiss chard, cheese, ham, bell peppers, and olives. Repeat with ingredients in reverse order finishing with omelet. Top with remaining puff pastry circle and seal by pinching together with overhang. Brush with beaten egg and bake at 400 degrees for 20 minutes and reduce heat to 350 and cook additional 40 minutes. Remove from oven and cool 20 minutes or to room temperature. Remove from pan and serve. add 1 tablespoon of butter to the pan and add half of the egg mixture and cook evenly until just done. Remove from pan and repeat with remaining butter and egg mixture.