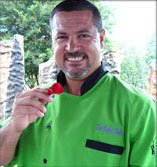 Béarnaise Sauce with Mexican Mint Marigold
2 Egg yolks
3 Tbsp. Lemon juice, fresh
½ cup Butter, cold and split
1 Tbsp. Onion, minced
1 tsp. Mexican Mint Marigold leaves, chopped
2 Tbsp. White wine
In small pan, stir yolks and lemon briskly with wooden spoon. Stir in one half of the butter, the onion, and Mexican mint marigold over low heat until melted. Add the rest of the butter. Stir briskly until butter is melted. Be sure butter melts SLOWLY. Serve warm.
Salt-Roasted Pork Tenderloin with Mexican Mint Marigold
2 Tbsp. Mexican Mint Marigold leaves, chopped
6 cups Kosher salt
1 Egg white, beaten
3 Tbsp. Vegetable oil
1 (1¼ lb.) Pork tenderloin, cleaned
Preheat grill to high or about 400 degrees. Combine the Mexican mint marigold and the salt in a large mixing bowl and stir in egg white and about ¼ cup of water until the texture is that of gritty snow. In a large skillet, heat the oil until the surface ripples. Pat the pork tenderloin dry with paper towels and sear it in the hot oil until it is browned on all sides, about 8 minutes. While the pork is browning, spoon a layer of salt about one-fourth-inch thick in the bottom of a metal jellyroll pan just big enough to hold the pork. When the pork is browned, pat it dry with a paper towel to remove any excess oil and place it on the pan, laying it down the center. Cover with the remaining salt. Roast until the pork reaches an internal temperature of 145 degrees, about 20 to 25 minutes. At this point, the pork will be quite moist but still a little pink. If you prefer the pork to be more cooked, push the temperature to 150, about 5 more minutes. Remove the pan from the grill and set aside 5 minutes to finish cooking.
With a sturdy metal spoon or back of chef's knife, chip a crack around the base of the salt crust and carefully lift off the top. Use a dry pastry brush to brush away any salt on the surface of the pork, turning the pork over to brush all sides. Transfer the pork to a carving board. Slice the pork into medallions one-fourth-inch thick and arrange on a serving platter.