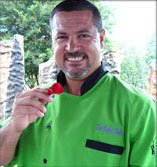 Marjoram Cornbread2 cups yellow cornmeal
1 tsp kosher salt
1 tbsp sugar
2 tsp baking powder
1/2 tsp baking soda
1 cup buttermilk
2 tbsp lemon juice
2 eggs, beaten
1 cup creamed corn
1 tbsp Marjoram
2 tbsp bacon drippings (or any oil except Olive)
Preheat oven to 425 degrees. Place 10 inch cast iron skillet in oven to heat as well. Meanwhile, combine cornmeal, salt, sugar, baking powder, and baking soda in a large bowl. In another bowl combine the buttermilk, lemon juice, eggs, corn and marjoram. When oven is heated, remove the pan from the oven and add the bacon drippings and swirl to coat all sides. Add the wet ingredients to the dry ingredients and pour slowly into the pan. Place in oven and bake for about 20 minutes or until a toothpick stuck into center comes out clean. Remove from oven and let sit in pan for additional 5 minutes. Then remove and serve warm.
Marjoram rubbed Pork roast
3 pounds bone-in pork roast
3 tbsp pecan oil
4 tbsp marjoram
1 tbsp garlic powder
2 tbsp cider vinegar
1 tbsp salt
2 tsp pepper to taste
Preheat oven to 325 degrees. Combine 1 tbsp of oil with the marjoram, garlic powder, salt and pepper and rub over the pork roast. In a large roasting pan over medium high heat, place remaining 2 tbsp of the pecan oil and brown the pork roast on all sides. Add water to pan until it reaches halfway up the roast. Add the vinegar to the water and place into the oven and roast for about 1 and a half hours or about 30 min. per pound. Remove from oven and place onto cutting board and rest covered with foil for 10 minutes before carving.