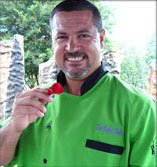 Brussels Sprouts with Lovage Sauce
4 cups Brussels sprouts, cleaned and trimmed
1 tsp Salt
1 Shallot, finely chopped
2 tsp Garlic, minced
4 cup Chicken Stock, divided
¼ cup Lovage, chopped
4 tbsp Butter, unsalted, divided
3 tbsp Flour
4 oz Milk
½ tsp Nutmeg, grated
Black Pepper to taste
Soak sprouts in cold, salted water for about 10 minutes. In a saucepan, heat 1 tbsp. butter over medium heat and shallot to pan and cook for 3 minutes then add garlic and cook additional 1 minute. Add 1 cup chicken stock and drained Brussels sprouts to pan with shallot and garlic and cover and cook for 10 minutes or until sprouts are cooked through. Remove mixture from pan and reduce heat to low. Add remaining butter and heat until melted. Add the flour to the pan and stir constantly with whisk to eliminate any lumps. Heat the flour mixture until thickened and add the remaining chicken stock, milk, nutmeg, and lovage. Heat until thickened and return the sprout mixture to the pan. Heat the sprouts thoroughly and season with pepper and salt. Serve warm.
Muffaletta Dip with Lovage
1/2 Cups Green Olives, Pitted
1/4 Cup Kalamata Olives, Pitted
1/3 Cup Gardiniera (Pickled Cauliflower, Carrots, Celery, Pepperoncini)
1 tsp. Capers
4 each Garlic cloves, thinly sliced
1/4 Cup Lovage, chopped
½ Tbsp. Italian Parsley, finely chopped
1/2 Tbsp. Oregano
1 tsp. Crushed red pepper flakes
2 Tbsp. Red Wine Vinegar
1 Tbsp. Green Onions, thinly sliced
8 oz. Genoa Salami, chopped
1 cup Provolone, shredded
2 blocks Cream Cheese
Extra Virgin Olive Oil
Kosher Salt & Freshly Ground pepper To Taste
In a large food processor, combine first twelve ingredients and pulse gently 5 or 6 times to combine into a balanced blend but not a paste. In a large bowl, combine the olive salad, provolone, and the cream cheese and stir until blended well. Adjust the seasoning of the dip with salt and pepper. Adjust the consistency of the dip with olive oil. Refrigerate until ready to serve. Serve with crackers, toast points, or serve on French bread.