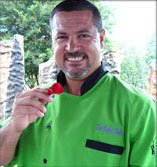 Ingredients:
2 cups Lime Balm leaves
1 Tbsp Garlic, minced
1/4 tsp salt (or to taste)
1/4 tsp pepper (or to taste)
1/4 cup Lemon Juice or Vinegar
1/2 tsp onion powder
1 Tbsp Honey
1/4-1/2 cup good quality Olive Oil
Directions:
Put all the ingredients (except the olive oil) in the blender. With the machine turned on, slowly pour the olive oil into the blender until desired consistency. Taste and adjust seasonings as necessary. Best when made at least 1 hour before serving, as flavors need time to meld. Can also be used as a marinade for chicken, shrimp, or pork.
Lemon Balm Bread
Ingredients:
1/2 cup Unsalted Butter
1 cup Sugar
2 large Eggs
2 tsp Vanilla
1/8 tsp Salt
1/4 cup Lemon Balm Leaves, finely chopped
1 1/2 cups AP Flour, sifted
1 tsp Baking Powder
Zest of 1 Lemon
GLAZE
1 lemon, juice of
1/2 cup Sugar
1/2 cup Hot Water
1/4 cup Lemon Balm leaves, finely chopped
Directions:
Preheat oven to 350 degrees.
First, cream butter and the lemon balm leaves together. Then add sugar and beat until incorporated. Add the rest of the ingredients and pour into a buttered loaf pan. Bake for about 40 minutes or until toothpick inserted into middle comes out clean.
While bread is cooking, make glaze.
When bread is done, remove from oven and let cool for about 5 minutes and pour glaze over it while still in pan.