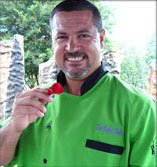 Grilled Lemongrass Chicken
3 stalks lemongrass, peeled and chopped
3 tbsp Ginger, fresh grated
6 garlic cloves, minced
1 Thai pepper, minced
4 tbsp Brown sugar
4 tbsp Fish sauce
2 tbsp Ponzu Sauce
2 tbsp Pecan Oil
2 tbsp Rice vinegar
1 tbsp Cilantro, minced
3.5 lbs Chicken
Combine all ingredients in zip-top bag and refrigerate for at least 4 hours up to 24 hours. Remove from bag and discard marinade. Grill chicken on medium heat for about 8 minutes per side, turning over halfway through cooking till thermometer reads 165 degrees. Remove and rest for 5 minutes until ready to serve.
Lemongrass Oil
2 cups Kinloch Plantation Pecan Oil
2 cups Lemongrass, chopped, fresh
3 Tbsp Black Peppercorns
Heat oil over medium heat, add lemongrass and pepper. Remove oil from heat after about 6 minutes. Strain oil and cool to room temperature. Use to grill shrimp or vegetables. Also use oil in dressings and marinades.