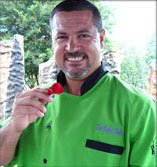 Lemon Verbena Watermelon Sorbet
½ cup Sugar
½ cup Light Corn Syrup
¼ cup Lemon Juice
24 leaves Lemon Verbena, chopped
3 lbs Watermelon, cut into chunks with seeds and rind removed
In a saucepan over medium heat, combine sugar, syrup, lemon juice, and lemon verbena. Heat to a simmer and continue cooking 5 minutes. Remove syrup from heat and refrigerate. Meanwhile, puree watermelon in batches in a blender. Strain to remove any small seeds. Strain the syrup as well to remove the chopped leaves. Add the strained syrup to the puree and place into an ice cream cooler and follow directions for making ice cream. Remove from ice cream maker and harden at least 6 hours before serving. Garnish with lemon verbena leaves.
Lemon Verbena Cocktail
1 oz Whiskey
3 ox Green Tea
3 leaves Lemon Verbena plus 1 for garnish
In a cocktail shaker, combine whiskey and lemon verbena leaves. Muddle the leaves and fill shaker with ice. Pour in the green tea and shake for 20 seconds. Strain and pour into serving glass. Rub the leaf on the edge of the glass and place into drink as garnish.