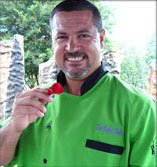 Lemon Balm and Rosemary Cookies
2 tbsp. Lemon Balm leaves, minced
1 tbsp Rosemary leaves, minced
1 tsp. Lemon juice, fresh
1 cup Butter, softened
2/3 c. Sugar
1 Egg
2 1/3 cup Flour
1/4 tsp. Salt
In small dish, combine first 3 ingredients, press mixture with back of spoon to blend. In large mixer bowl, cream butter and sugar until light and fluffy. Beat in egg and lemon mixture. Gradually beat in flour and salt. Cover and refrigerate 3 hours or until firm. Roll into log with wax paper. Preheat oven to 350F. Using wax paper slice into slices about 1/8″ thick. On ungreased cookie sheet bake 8 to 10 minutes.
Lemon Balm Sauce for Chicken or Fish
8 oz White Wine
1 Shallot, minced
4 sprigs Lemon Balm plus 1 tbsp for garnish
1 Bay Leaf
8 oz Chicken Stock
1 oz Butter
In saucepan over medium heat, combine wine, shallot, lemon balm, and bay leaf and reduce by half. Add stock and reduce again by half. Remove from heat, add additional lemon balm and season with salt and pepper. Before serving, add butter to pan and melt with residual heat. Serve warm.