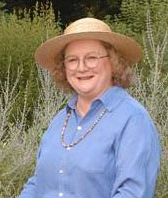 By Ann McCormick
Summer brings families outdoors in a big way. Our homes become alive with backyard barbecues, children running through the lawn sprinklers and everyone getting drinks from a pitcher of iced lemonade made by Mom.
The flavor of lemon is also available in the herb world. Lemon balm (Melissa officinalis) is a mid-sized perennial herb. Its stems reach two to three feet with bright green leaves. Given regular watering, it's happy growing in full sun to full shade.
Lemon balm leaves can be finely minced and added to baked goods or steeped for herbal tea. It's also the perfect addition to a tall glass of summer lemonade. Here's what you need to make lemon balm lemonade:
two handfuls of fresh lemon balm
4 cups of water
12 oz. can of lemonade concentrate
sugar, to taste
crushed ice and lemon balm sprigs to garnish
Rinse and coarsely chop the lemon balm leaves. Bring the water to a boil and add the chopped lemon balm. Allow to steep 10-15 minutes. Strain out the lemon balm leaves. Mix the lemon balm tea with the lemonade concentrate. Add enough water and crushed ice to make two quarts. Have on hand small sprigs of lemon balm to garnish the pitcher and glasses.
You'll find this combination surprisingly light and refreshing. Just make a pitcher, put it on the picnic table, and smile. Soon friends will be asking what you did to make the lemonade taste so good.