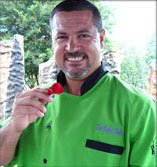 Lavender and Brie Spread
¼ cup Parsley, chopped
1/3 cup Chives, minced
¼ cup Lavender, minced
8 oz Brie, Triple Cream
2 tbsp. Heavy Cream
1 tsp Lemon Zest
1 tbsp Lemon Juice
Black Pepper to taste
Combine all ingredients in food processor except lemon juice, heavy cream and black pepper. Pulse cheese until pale green. With machine running, add the cream and the lemon juice. Remove from bowl and season with pepper. Serve at room temperature.
Peach and Lavender Butter
3½ lbs. Fruit, peeled and pitted
½ cup Lavender
1¼ cup Sugar
¼ cup Lemon Juice
2 tbsp Lemon juice
2 tbsp Lavender
Combine fruit, sugar, lavender, lemon juice, and ¼ cup of water in saucepan over high heat. Bring to a boil and reduce heat to simmer and cook about 20 minutes. Puree and return to pan over low heat and cook for additional 2 to 2½ hours. Cool mixture and add additional lemon juice and lavender. Preserve in airtight containers and use within a month or safely can and it keeps up to 6 months.