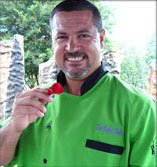 Herbes de Provence
4 Tbsp Oregano
4 Tbsp Thyme
3 Tbsp Lavender, chopped
1 Tbsp Basil, chopped
1 Tbsp Sage, chopped
1 Tbsp Rosemary, chopped
Combine all and microwave in paper towels for 30 seconds. Remove and let cool. When cool, store in airtight container until ready to use.
Lavender Cookies
5/8 cup butter
2/3 cup white sugar
1 egg plus 1 egg yolk
1/4 cup Vegetable Oil
4 tablespoon lavender flowers
1 1/2 cups all-purpose flour
Preheat oven to 350 degrees. Grease cookie sheets. Cream together the butter and sugar. Beat the eggs, and blend into the butter and sugar. Mix in the lavender flowers, vegetable oil, and the flour. Drop batter by teaspoonfuls onto cookie sheets.
Bake 15 to 20 minutes, or until golden. Remove cookies to cooling racks, and sprinkle with decorative sugar and additional lavender flowers if desired.