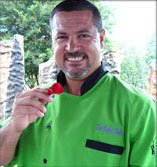 Lavender Truffles
1/3 cup heavy cream
12 Lavender Flowers, fresh
6 ounces bittersweet chocolate, chopped
4 ounces semisweet chocolate, chopped
2 tablespoons unsalted butter
Lavender flowers for garnish
Heat cream in small saucepan until simmering. Add the lavender flowers and remove from heat. Stir again, and set aside to steep 15 minutes. Combine the bittersweet chocolate with the semisweet chocolate in a large metal bowl. Divide the chocolate into equal portions, and set one portion aside. Cook the remaining chocolate over double boiler until chocolate melts. Strain the cream into the melted chocolate; discard the flower heads and bits of lavender. Stir the cream and chocolate together until smooth. Chill in the refrigerator until somewhat firm, but not hard, about 1 hour. After the lavender chocolate mixture has chilled, place the remaining chocolate and butter into a large metal bowl. Cook over double boiler until chocolate melts and add butter. Line a baking sheet with a piece of waxed paper. Roll the lavender mixture into 1 tablespoon-sized balls, and dip into the melted chocolate mixture using a skewer or toothpick. Place onto the prepared baking sheet, and chill in the refrigerator at least 2 hours to harden.
Poached Pears with Lavender Honey
4 Bosc pears
2 tablespoons honey
3 tablespoons butter
2 tbsp lavender flowers
1 tsp Ginger, fresh grated
Preheat oven to 375 degrees F. Peel pears and scoop out bottom core. Cut a small slice from the bottom so pears will stand upright. Place in a shallow baking dish and set aside.
Melt butter and honey in a small saucepan over medium heat. Heat to a simmer and add flowers and ginger. Remove from heat and steep for about 10 minutes. Bring honey mixture back to simmer and drizzle pears. Cover with aluminum foil with the stems poking through foil. Bake in the preheated oven for about 1 hour, or until tender. Baste with released juices occasionally during baking, and again just before serving.