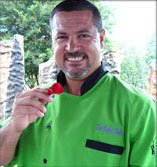 Dilled Smoked Salmon Spread
16 oz. Crème Fraiche
12 oz. Smoked Salmon, chopped
1 tsp. Worcestershire Sauce
1 tsp. Tabasco Sauce
2 tsp. Dill, chopped
2 tbsp. Green Onion, chopped
Combine all ingredients into bowl and mix. Refrigerate until ready to use.
Fennel and Leek Soup
2 tbsp. Pecan Oil
3 large Leeks, cleaned and sliced thinly
4 stalks Celery, sliced thinly
3 Onions, peeled and sliced thinly
1 large bulb Fennel, sliced thinly
2 Potatoes, diced ½ in.
8 cups Vegetable Stock
2 oz. Lemon juice
4 oz. Heavy Cream (optional)
Salt and Pepper to taste
In large stock pot over medium heat, combine oil, leeks, celery, onion, and fennel. Cook until onions become clear. Add potatoes and vegetable stock to the pot and simmer for about 30 minutes. Add lemon juice and cream if using. Simmer additional 5 minutes and season with salt and pepper.