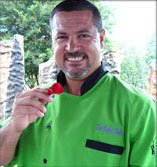 Infused Vinegar
Mexican Mint Marigold Infused Vinegar
12 sprigs Mexican Mint Marigold
32 oz Distilled White Vinegar
Place sprigs of herb in saucepan and pour over the vinegar. Heat until about 105 degrees and turn off heat. Let cool in pan and pour into container to store in cool dark place for 3 to 5 days. After letting the herbs steep, strain and pour into bottle with cork as metal lids can rust. Can be used for up to one year.
Infused Salts
Rosemary Infused Salt
1 tbsp. Rosemary, chopped finely or ground(Can use other flavorings or combine)
6 tbsp. Salt, Himalayan or Kosher
Ground the rosemary with a mortar and pestle or chop finely. Add to salt and stir gently to keep the salt crystals intact. Store the salt in airtight container for up to a month.
Citrus Zest – Grapefruit, Lemon, Lime, or Orange
Herb Seeds – Caraway, Celery, Coriander, Cumin, Fennel, Poppy, or Sesame
Onions – Dried Shallots, Onions, or Scallions
Peppers – Whole Peppercorns or finely diced dried Chilies
Garlic – Finely diced dried Garlic
Seaweed – Dried Seaweed, Shredded or Crumbled
Truffles – Black or White Truffles, Grated
Herbs – Basil, Cilantro, Lavender, Lemon balm, Marjoram, Mint, Oregano, Parsley, Rosemary, Sage, Savory, Tarragon(Mexican Mint Marigold), Thyme, or Whole Bay leaf