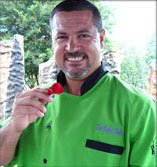 Oregano Avocado Feta Salsa
2 Roma Tomatoes, chopped
1 Avocado, peeled and chopped
¼ cup Red Onion, chopped
2 cloves of Garlic
1 tbsp Parsley, chopped
1 tbsp Oregano, chopped
1 tbsp Olive Oil
1 tbsp Lime Juice
4 oz Feta cheese, crumbled
Combine all ingredients and chill 2 to 6 hours to mix flavors. Serve with tortilla or pita chips.
Hilltop Oregano Pesto
1¼ Cup Hilltop Oregano
½ Parmigiano Reggiano, grated
2 cloves Garlic, minced
½ cup Pecans, chopped
1 tbsp Lemon zest
1 tsp Lemon Juice
½ cup Pecan Oil
Salt and Pepper to taste
Place first six ingredients into a food processor and pulse until paste consistency. With the machine running, slowly add pecan oil to the mix and add until smooth. Remove and season with salt and pepper. Use with pasta, brush onto flatbreads, drizzle into soups.