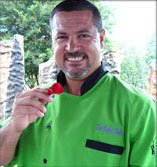 Rosemary and Red Wine Braised Lamb Shanks
2 tbsp. Pecan Oil
4 Lamb Shanks, frenched (bone exposed and free of meat)
1 Onion, chopped
2 stalks Celery, chopped
2 Carrots, peeled and chopped
6 cloves Garlic, minced
8 tbsp. Rosemary
1 cup Red Wine, not cooking wine
2 cups Beef Stock
Salt and Pepper and Red wine vinegar to taste
Preheat oven to 300 degrees. Season the lamb shanks with salt and pepper. In a heavy sauté pan, heat oil over high heat and sear the lamb shanks until browned on all sides. Remove to plate and sauté the onions, celery, and carrots scraping the brown bits from the pan. After 5 minutes, add the garlic and rosemary to the pan and cook additional 30 seconds. Deglaze the pan with the wine and add the shanks back into the pan with the juices. Add the beef stock to the pan and bring to a simmer. When simmering, cover and place in oven for about 2 hours. Remove from oven and season broth with salt, pepper, and red wine vinegar. Serve warm with broth spooned over the shanks and garnish with fresh rosemary sprig.
Rosemary Pear Crisp with Honey Yogurt drizzle
2 lbs. Pears, peeled and chopped
3 tbsp. Lemon Juice
3 tbsp. Rosemary, chopped and divided
½ cup Rolled Oats, not instant
½ cup Brown Sugar
¼ cup Flour
¼ cup Butter
1/8 tsp. Salt
4 oz. Plain Yogurt
2 tsp. Honey
Preheat oven to 400 degrees. Toss the pears with the lemon juice and 2 tbsp. of the rosemary and pour into a buttered 8 by 8 baking dish and set aside. In a food processor, combine the 1 tbsp. of rosemary with the oats, sugar, flour, butter, and salt. Pulse until just combined. Place evenly over the top of the pears. Bake the crisp for about 45 minutes or until some browning occurs on the top. Meanwhile, combine the yogurt and honey until combined. Garnish the crisp with a drizzle of the honey yogurt over the top and serve warm.