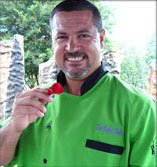 Hibiscus and Chevre Appetizer
10 Hibiscus Flowers, chopped
1 tbsp Chives, minced
8 oz Goat cheese, softened
1 tsp Black Pepper, coarse ground
1 tsp Crushed Red Pepper
12 slices Baguette, toasted
Hibiscus Syrup
In a small bowl, combine hibiscus flowers and chives. In another bowl, combine goat cheese with the two peppers and mix thoroughly. Top each baguette with 1½ tbsp of goat cheese. Portion the flowers and chives over the goat cheese. Garnish with drizzle of hibiscus syrup.
Hibiscus Sangria
1 stalk of Lemongrass, outer layer removed and finely chopped
1 tbsp. Lemon juice
1 cups Riesling
1 cups Hibiscus Syrup
3 tbsp. Orange Juice
2 tbsp. Lime juice
1 cups Champagne
Muddle the lemongrass and lemon juice together in a pitcher. Stir in Riesling, hibiscus syrup, orange juice, and lime juice. Chill together at least 30 minutes. Strain into clean pitcher. Pour ¾ cup citrus mixture into wine glass and add ¼ cup champagne. Garnish with hibiscus flower placed in glass.