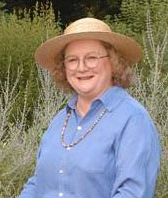 By Ann McCormick
Ever had one of those days when you're behind before you even get out the front door? First downtown for two meetings and three quick stops, then a hurried lunch before swinging by the post office and the supermarket. Sliding into home doesn't signal the end. There are calls to answer, papers to sort and file, and the random domestic crisis to settle. It's like trying to squeeze a Size 16 list of chores into a Size 8 day.
Times like this cry out for a savory bowl of soup, comfort food for the busy family. It's easy to make, requires only one pot, and can adapt to ingredients on hand. Best of all, it highlights the flavor of herbs. Next time you make soup (whether from scratch or from a can), try adding some of these.
Basil – The king of herbs and my personal favorite. Adds zip to every soup.
Bay Leaves – Gives a supporting flavor to other herbs. Remove before serving.
Chives – Sprinkle fresh chopped chives on soup for a mild onion flavor.
Cilantro – The signature herb of southwestern cooking. Think of it as parsley that's been kicked up a notch.
Dill – Leaves are excellent with fish or seafood. Best used fresh.
Oregano – Essential for almost any Italian dish. Mandatory with bean soup.
Parsley – Brings out the best in other herb. Great in potato-based stews.
Rosemary – A robust herb. Use sparingly to avoid overpowering other flavors.
Sage – Adds hearty flavor to poultry soups. Often used also in sausage stews.
Thyme – A low-key herb that blends well with fish or chicken dishes.
Although there are many good soups available at the grocers, making it yourself can be a very satisfying experience. If you'd like to try a new recipe, visit my website at www.ann-mccormick.com and click on "South American Soup." I've posted a traditional Chilean fish dish for your enjoyment.
Had an over-stressed, over-scheduled day? Make some soup with delicious herbs and you'll knock that day down to size!