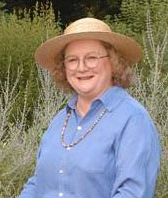 By Ann McCormick
On any Saturday in your neighborhood you may see a gruff retiree out watering his garden. Suddenly his eye catches an approaching menace, a boy in search of adventure. Quickly he moves along the fence to stop the little barbarian at the gate. But youth has its advantages and the boy is in before he can stop him.
If you feel that way about children in your garden, perhaps it's time to rethink your strategy. Create a "kid's corner " in your garden with herbs. They're bothered by few pests and will endure benign neglect. Even the occasional child's footprint won't seriously harm most of them. Here's a sampling to grow in a child's garden.
Mint – This hardy herb is a familiar flavor for children. Its easy propagation comes in handy in the kid's corner. If they pull up a handful, it can easily be replanted. You can also clip a piece, stick it in a glass jar with water, and watch with your child as they learn how roots grow.
Chamomile – Chamomile is tolerant of light foot traffic and will make a nice ground cover around the other herbs. You can also tell them this is the herb that Peter Rabbit's mother used to make him tea after his disastrous run-in with Farmer MacGregor.
Oregano – This darling of Italian cooking grows about a foot high, producing light green leaves. Tell your children that this is the pizza herb or the spaghetti herb, whichever is more popular in your home.
Chives – The grass-like hollow leaves of onion chives and their pink pom-pom flowers can be frequently clipped, chopped, and sprinkled on potatoes and other vegetables. When planting them, show your child the bulbous base as an introduction to other bulbs, such as garlic, daffodils, and hyacinths.
Want to know more about gardening with kids? Take a look at www.kidsgardening.com sponsored by the National Gardening Association. You can order pint-sized tools, find teaching aids, read the "Parents' Primer," or scan the calendar of garden events.