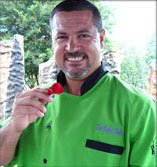 Habak Mint Julep
10 Leaves of Habak Mint
1 tsp Superfine sugar
3 oz Bourbon
In a shaker, muddle the mint and sugar together until completely chopped. Add 1 cup of ice and pour in the bourbon. Shake until cold and pour into glass with about 1 more cup of ice. Garnish with mint leaves and serve.
Habak Mint Tabouli
1 cup Bulgar Wheat
Salt and Pepper
1/3 cup Extra Virgin Olive Oil
1/4 cup Lemon Juice
2 clove Garlic, minced
1 cup Habak Mint leaves, minced
2 bunches Parsley, minced
2 Roma Tomatoes, seeded and diced
Pour 1-1/2 cup boiling water over bulgar wheat and 1/2 tsp salt. Let stand at least 20 minutes to cook the bulgar wheat. In a bowl, combine the garlic, lemon juice, mint, and parsley. Using a whisk, slowly add the oil to the bowl until all combined and thickened slightly. Season the dressing with salt and pepper. Strain the wheat and combine with the dressing. Toss in the tomatoes and refrigerate until ready to use.