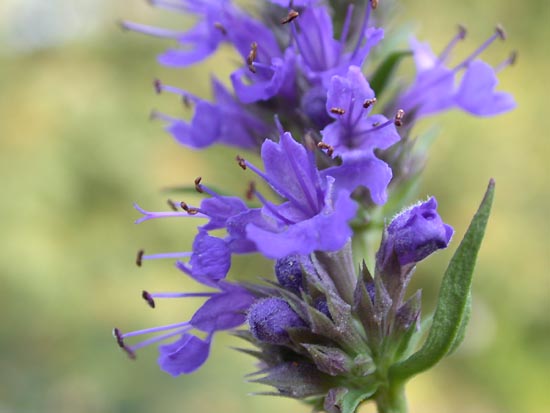 Hyssop (Hyssopus officinalis) is a hardy perennial herb that grows about two feet tall. The aromatic leaves are dark green and pointed. Because hyssop is a sub-shrub you can use it as a border plant in gardens. Spread young hyssop plants 1-2 feet apart in a spot with full sun and good drainage. This herb prefers gravelly or rocky soil so don't plant it where the soil tends to be moist or boggy.
Unlike most herbs, hyssop has attractive flowers. They come in pink, white, or blue on stalks that grow to about three feet tall. The flowers are attractive to butterflies and bees. One source says that honey gathered from hyssop nectar is especially tasty. During the growing season keep the spent flower stalks regularly trimmed to help the plant become bushy and to promote another growth of flower stalks. After the first hard frost in fall, clip back the herb to the woody parts of the stems. In most of Texas, hyssop should remain green through the winter. For centuries hyssop has been strongly associated with ritual and medical cleansing. In the Old Testament hyssop was used to sprinkle blood as part of the Jewish Passover. Hyssop was mentioned in the Bible for its cleansing effect in connection with plague, leprosy and chest ailments and symbolically in cleansing the soul. In Medieval and Renaissance times hyssop was primarily used for respiratory and digestive ailments. It was also used externally for treating bruises, sores, earaches, and rheumatism.
Beauty may be in the eye of the beholder but when it comes to hyssop, beautiful scent is in the nose of the sniffer. Everyone agrees that hyssop has a distinct smell but for some it's wonderful and for others it's not so good. Historically it has been used to provide a clean, fresh scent indoors as part of potpourri or strewing herbs. However some people say that hyssop reminds them of "eau de skunk," not exactly an aroma you'd want around the house. Before buying it, breathe deeply of the scent to see where you stand on this issue.