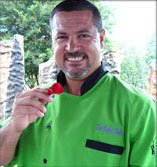 Ingredients:
4 Pears, halved
8 oz Mascarpone
4 Springs Mint
1 tbsp Lemon juice
Preparation:
1. Combine cheese, mint and lemon juice.
2. Grill pears over hot grill.
3. Serve with cheese.
Fruited Baked Brie with Mint
Ingredients:
8 oz Brie or Camembert Cheese
2 Tbsp Butter
1 Tbsp Honey
1/4 Apple, peeled and sliced thin
4 Strawberries, stemmed and sliced
2 oz Blackberries or Blueberries or 1 oz each
1 Tbsp Mint, chopped
Preperation:
1. Cook apples in melted butter and honey until soft, about 3 min. Turn off heat and add rest of fruit and mint.
2. Place Brie in foil package topped with fruit. Wrap gently and heat in 350 degree oven or on grill for 10 minutes.
3. Remove from foil and serve warm. Serve with graham crackers or water crackers.